Seychelles Yacht Charter Guide | Indian Ocean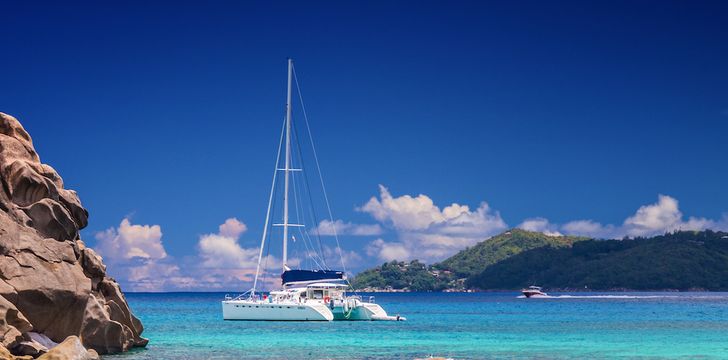 Charter a luxury yacht in the Seychelles and discover Mahé, Cerf, Moyenne, Round, Ste. Annes, Cousin, Cousine, Praslin, La Digue, Silhouette Island and Desroches
Getting to Seychelles | Crewed Charters | Bareboat Charters | Honeymoon Charters | The Inner Islands | The Outer Islands | Climate | Cuisine | Our Seychelles Charter Yachts
The Seychelles Islands are an archipelago in the Indian Ocean, consisting of approximately 115 islands, most of which are not permanently inhabited. Seychelles offer timeless beauty, tranquillity and harmony that is famous for its amazing white beaches and for a great natural diversity both above and below the water line.
There are two main island clusters - usually referred to as the Inner and Outer islands. The Inner islands are a granite group, with the largest being Mahe. The 41 Inner Islands constitute the oldest mid-oceanic granite islands on earth.
The 74 Outer Islands, are comprised of 5 groups of low-lying coral atolls and reef islets and include the coral islands of the Aldabra Islands and the Farquhar group.
Seychelles is home to two UNESCO World Heritage Sites: the Vallée de Mai on Praslin where the Coco-de-mer nut grows high on ancient palms, and fabled Aldabra, the world's largest raised coral atoll. The capital city of Seychelles is Victoria, located on the island of Mahé.
Make an Enquiry Seychelles Charter Yachts
---
---
Crewed charters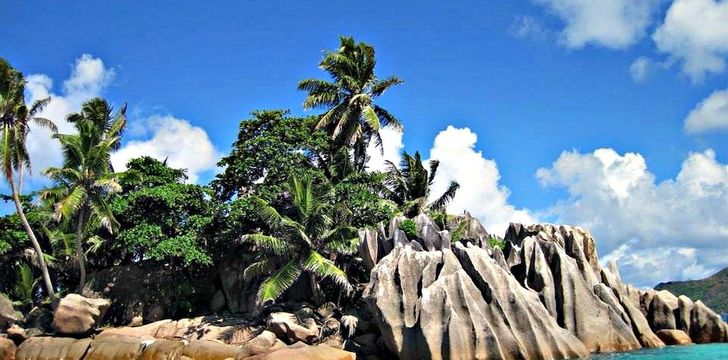 Seychelles offers all types of charters, but the two most popular are catamarans and Super Yachts. You can charter yachts both bareboat and crewed for your sailing holiday.
Catamarans have become the sailboat of choice because they are nearly perfect for exploring coral reefs. Their low draft and easy access to the water make them well suited for hopping around the Seychelles. Click here for a complete discussion on chartering a catamaran, or here for a full list of catamarans for charter in the Seychelles
Increasingly, Super Yachts and Luxury Yachts are finding their way to the Seychelles. For those looking for perfect weather, amazing sea life, and the ability to get away from it all, you couldn't ask for a better destination than the Seychelles. More and more often yachts are brought to the Indian Ocean for the Winter, as opposed to the Caribbean, which avoids the Atlantic crossing and opens up all of the amazing Indian Ocean Destinations such as the Maldives, Seychelles and Mauritius.
More on chartering Super and Mega Yachts
---
Bareboat Charters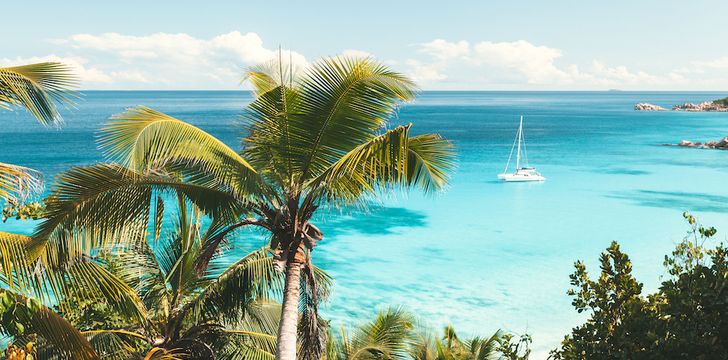 For ultimate freedom, why not hire a yacht and skipper it yourself?! The Seychelles has a fantastic selection in both monohull and catamaran sailing yachts all ready for you to charter in the most turquoise waters Boatbookings has ever seen! Speak to one of our expert brokers who can assist in desiging the idea itinerary and select the most suitable yacht for your charter needs and experience. Please see our Seychelles Bareboat Sailing Yachts Guide for more information and a listing of our bareboat sailing yachts.
---
Honeymoon Charters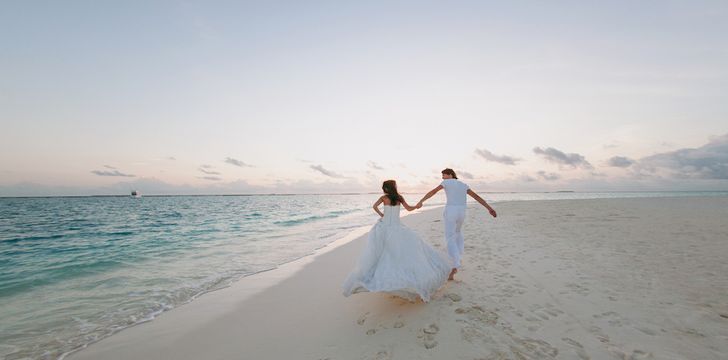 Is there anything more romantic than having a honeymoon in the Seychelles?! With blue waters, white sands a palm beaches - this could just be the perfect destination for your honeymoon! Get whisked away on your own private yacht and explore the romantic islands of the Seychelles. The weather, scenery, and hospitality of the locals will make your honeymoon one to remember! Kick back, relax, and let the crew spoil you in ultimate comfort!
More on chartering for your Honeymoon Our Seychelles Honeymoon Yachts
---
The Inner Islands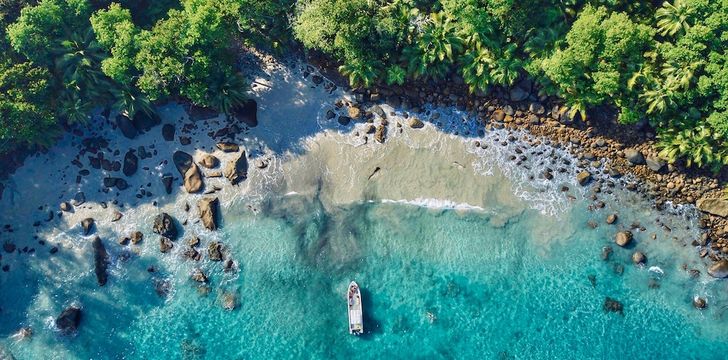 The Inner Islands offer safe moorings and easy sailing distances with tremendous diversity and breathtaking natural beauty. The largest island, Mahé, offers 44 miles of scenic coastline that features safe anchorages, over 65 beaches and plenty of secret coves and romantic hideaways. Scenic bays include Beau Vallon, Baie Ternay, Port Launay, Anse à la Mouche, Anse Soleil, Baie Lazare, Intendance and Anse Royale. Some of the more secret coves include Anse Major, Anse Jasmin, Anse Du Riz, and Petit Anse.
The smaller islands of Cerf, Moyenne, Round and Ste Anne lie just off Mahé's eastern coast in a marine park and Conception Island and Thérèse to her west.
From Mahe, you'll want to visit the twin islands of Cousin and Cousine, and then continue on to the island of Praslin, home to the Vallée de Mai and numerous world famous beaches. The island offers numerous safe anchorages along its 18-mile coastline.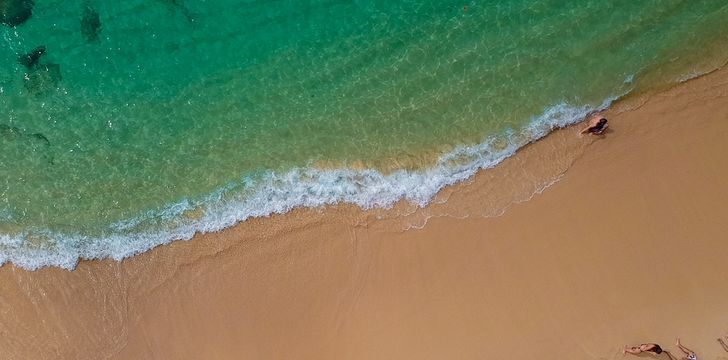 Scenic bays and romantic coves around Praslin include Anse Lazio, Anse a la Farine, Anse Petite Cour, Baie Chevalier, Anse Posession, Anse La Blague, Côte d'Or and Anse Marie-Louise. Satellite islands include Curieuse, St. Pierre, Île Cocos, Aride, Cousine and Cousin, to name a few.
Less than 4 miles southeast from Praslin's Baie Ste Anne jetty, La Digue is the island where time stands still. Discover its many coves (such as Reunion, Union and Patate) and silver-sand beaches, among which is one of the planet's most photographed strand, Anse Source d'Argent. There are numerous surrounding islands, including Félicité, Marianne and Grand Soeur, all within easy reach and all offering safe anchorages.
---
The Outer Islands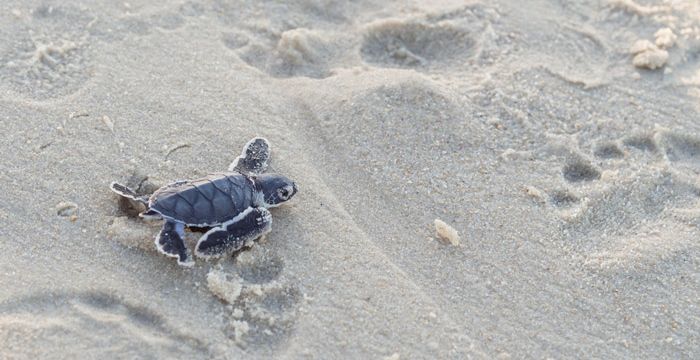 They Seychelles' beautiful Outer Islands, are more remote, distant, and less developed than the Inner Islands. They are worth the extra effort required to reach them, but are the domain of more experienced sailors and crew.
130 miles southwest of Mahé, the Amirantes is the nearest group of Outer Islands to the main granite cluster of the Inner Islands. The Amirantes lends itself well to cruising, with each of its islands – from Marie-Louise and Desnoeufs to the fine resort island of Desroches, or the isle of d'Arros with its magnificent lagoon and the twin isles that make up Poivre – being only some 4 hours sailing from the next. The snorkelling and diving are unrivalled, especially around the St Joseph atoll and off the walls of Desroches.
Some 50 miles southwest of Desnouefs resides Alphonse, which boasts some of the most spectacular diving, fishing and sailing opportunities in Seychelles, as well as a resort. Its lagoon is home to teeming wildlife and the majestic isles of Bijoutier and St. François. Both atolls (Alphonse atoll and St. Francois and Bijoutier atoll) are partially navigable at the right tide and both have passes to gain access to their calm interiors.
It is preferable to include Alphonse in a tour of the Amirantes and extend the visit to cover these amazing atolls. An overnight sail from the southern end of the Amirantes gives early morning access to the area around Alphonse and is a worthwhile extension for seekers of lost horizons.
The Farquhar group lies between 370 miles and 420 miles southwest of Mahé. It was the first of Seychelles' island groups to be sighted by modern explorers and still, today, offers the sailor an authentic blue-water sailing experience.
Situated on a shallow bank of sand and coral, Farquhar is more exposed to the sea than either Aldabra or Cosmoledo and rises majestically from the ocean depths to form a low lying atoll complete with its own dazzling shallow lagoon.
Navigation within the atoll is limited and mainly restricted to the eastern section. Although entry and exit can be difficult, it is nonetheless worthwhile for the shelter offered within.
Close by is the massive Providence reef with a small island at each end. With its northern tip crowned by the protruding peak of St. Pierre, this area, detailed with fine reefs and offering excellent diving and fishing, is mostly the preserve of adventurers seeking the very last word in out-of-the-way cruising.
Home to nesting seabirds and turtles, the Outer islands offer the intrepid sailor a unique combination of breathtaking scenic beauty and ocean adventure.
---
Getting to Seychelles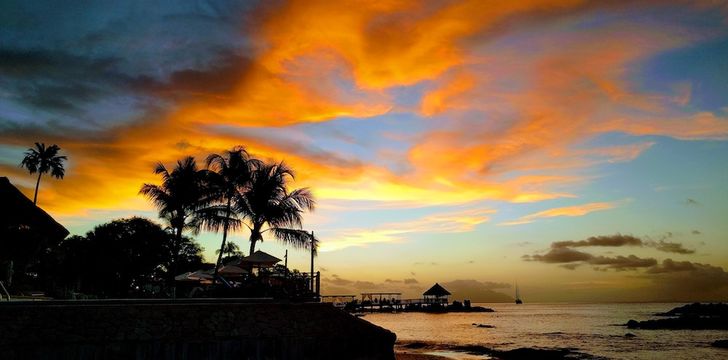 The Seychelles lie between 4 and 10 degrees south of the equator and between 480km and 1,600km from the east coast of Africa in the western Indian Ocean. The largest island of Mahé extends 27 km (17 mi) North to South and 11 km (7 mi) East to West.
The Seychelles, being an excellent tourist destination, is reachable by many international airlines, primarily from the major hubs of Europe. The national airline is Air Seychelles, which connects to 4 European capitals and 3 major cities around the Indian Ocean. Air Seychelles also operates numerous inter-island flights every day. As of March 2018, British Airways will have direct flights from London, UK to the Seychelles!
If you need to reach Praslin, Air Seychelles offers a daily shuttle service.
---
Climate and Weather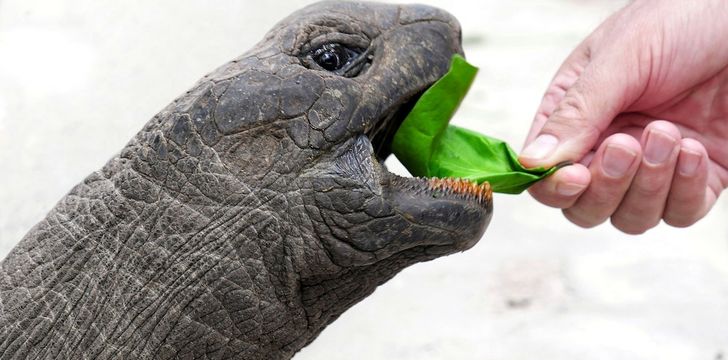 The Seychelles' climate is just about perfect - always warm, sunny nearly every day, with no major extremes. The temperature seldom drops below 24°C/75°F or rises above 32°C/90°F. All but the remotest southern islands lie comfortably outside the cyclone belt so there are very rarely storms or prolonged rainy periods.
The north-west trade winds arrive during the months of October and March. At this time the sea is generally calm and the weather warm and humid, with average winds of 8-12 knots.
January and February are the rainy season when the islands receive 30-40 cm of rain on average, bringing life-giving water to the islands and rejuvenating the foliage, rivers and streams.
The months between May and September bring drier, cooler weather, and livelier seas - particularly on south-eastern coasts – and winds of 10-20 knots.
The table below is a summary of the statistical averages for the Seychelles International Airport from 1972 to 2005. (Courtesy of the Seychelles Meteorological Services).
| | | | | | | | | | | | | |
| --- | --- | --- | --- | --- | --- | --- | --- | --- | --- | --- | --- | --- |
|   | Jan | Feb | Mar | Apr | May | Jun | Jul | Aug | Sep | Oct | Nov | Dec |
| Rainfall (mm) | 402.6 | 283.2 | 194.9 | 186.7 | 151.6 | 105.1 | 76.6 | 119.3 | 154.0 | 189.7 | 206.3 | 302.8 |
| Temperature (°C) | 26.9 | 27.4 | 27.8 | 28.1 | 27.8 | 26.7 | 26.0 | 26.0 | 26.5 | 26.9 | 26.9 | 26.9 |
| Relative Humidity (%) | 82 | 80 | 80 | 80 | 79 | 79 | 80 | 80 | 79 | 79 | 80 | 82 |
| Predominant Wind Direction | NW | NW | NW | SW-NW | SE | SE | SE | SE | SE | SE | SW-NW | NW |
| Wind Speed (kts) | 6.3 | 6.3 | 5.2 | 4.9 | 7.8 | 10.4 | 11.4 | 12.1 | 11.3 | 7.9 | 5.4 | 5.4 |
---
Seychelles Cuisine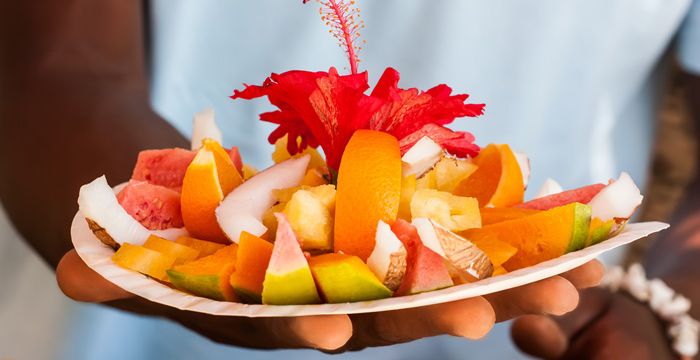 Because the Seychelles have been a melting pot for thousands of years, its food naturally reflects this. If you mix spicy African chutneys, fiery Indian curries and Chinese spices with the subtleties of French cooking, you'll have a good approximation of the Seychelles' exotic Creole cuisine. Although you can find poultry and meat dishes, it's best savoured with the island's tremendous seafood.
Grilled fish or octopus basted with a sauce of crushed chillies, ginger and garlic are national favourites as are a variety of delicious curries prepared with coconut milk and innovative "chatinis" (mixed dishes) made from local fruits such as papaya and golden apple. As may be expected, seafood dishes feature predominantly in the local cuisine, appearing alongside the national staple, rice.
You are sure to find food and types of cooking to your taste in the Seychelles, possibly even a local speciality of wild bat!
---
Seychelles Charter Yachts
Seychelles is a true tropical paradise. Boatbookings.com knows the region and boats, and can find you the ideal charter yacht, be it bareboat, crewed, sail, motor or catamaran. Click here to see our Seychelles Charter Yachts or simply contact us and we'll recommend the best boat for you.
Our Seychelles Charter Yachts Enquire Now!
---
Other Indian Ocean destinations: The Maldives | Thailand | Myanmar/Burma | Malaysia | Mauritius | India
Other Articles of Interest
Charter destinations