How To Use Boatbookings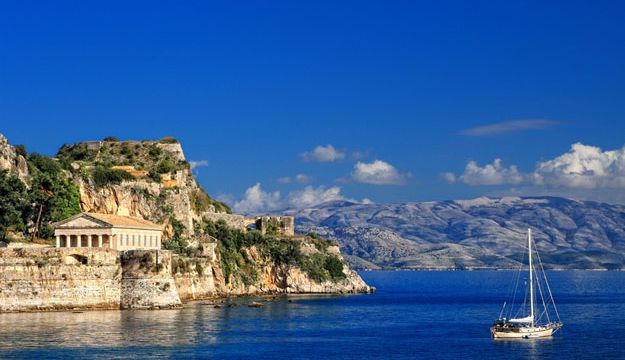 Smooth Sailing with Boatbookings!
Boatbookings has been set up to make it easy to find the boat or charter you're looking for. We have such a wide variety we are sure you will be able to find what you are looking for, however some filtering is needed due to our expansive search engine! There are several different ways of getting to that perfect boat - you can search using our many search tools, click on a map, or browse through our specials and top rated yacths.
Chartering a yacht should be a stress-free and enjoyable process, so we do not want the booking to be a hassle therefore we believe our method is as simple and effective as possible! Don't forget that we're always willing to do all the work for you (free of charge) - all you need to do is submit a charter request and we will send our proposals after you give us details about what you are looking for.
Homepage Hunting...
The home page has a search function designed to get you into the right boats you want quickly - searching by destination, crew type (bareboat or crewed), and boat type (sail, motor, catamaran).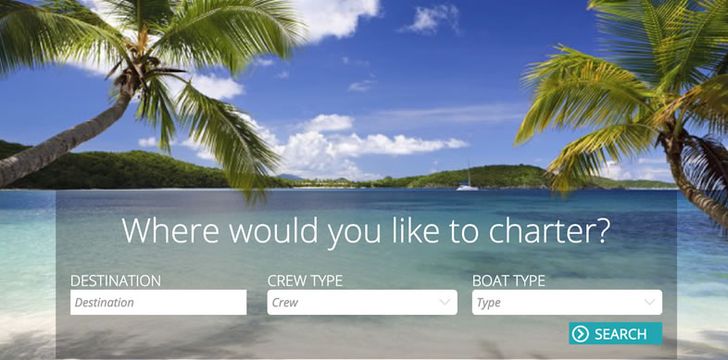 Just fill in this quick search box on the home page. For instance, if you are trying to find a crewed catamaran in the BVI, you'd fill it in this way and click "Search".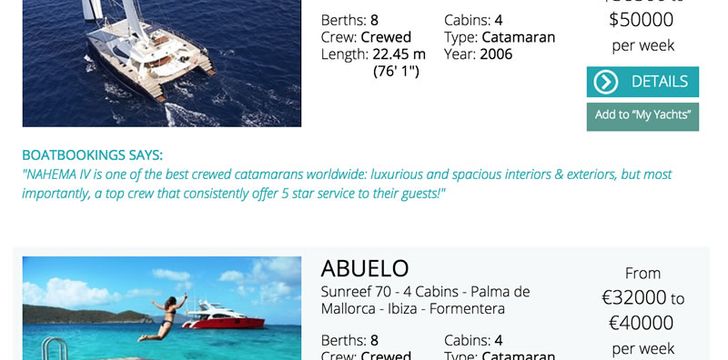 From here, simply look at the boats individually, or you can filter them further for key amenities. If you like a boat, you can easily place an enquiry, or click "add to My Yachts" so that you can create a shopping basket, if you like, of your favourite boats!

Select one of these three options, this will direct you to our broad range of yachts for that category wherby you can begin your filter by choosing size, cabins, budget etc. If you find a yacht you think is suitable, you can read about the guest feedback, check out the photos and find out more information then send in an enquiry! You need only send in one enquiry even if you like various yachts, as we can then discuss with you alternative options, you have no obligation to charter that yacht!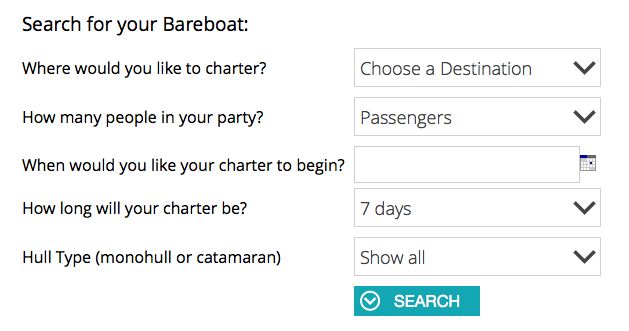 One of our great tools is our Live Availability for Bareboats. This allows you to search for 'real time' pricing and availability. It is a handy shortcut for booking your bareboat in one of our fabulous destinations! Fill in a few basic details, reserve the boat then book it directly. Piece of cake!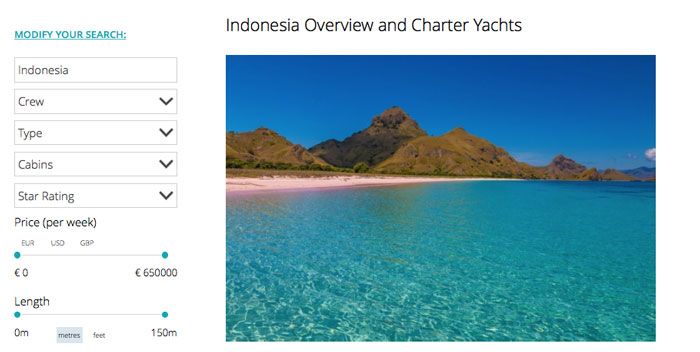 Another example of how you can find your yacht is by making use of our online library, we are very proud of it! There is nowhere else you can find this much useful, relevant and interesting information such as destination guides, itineraries and blogs. After countless charters we think it makes sense to share our experiences, guest feedback and advice on where to go and what to see.
If you are unsure on where you want to charter, start researching and once you find a place that catches your eye, there will be links directing you to the right page to charter the yacht. Underneath the destination pages you will have the list of appropriate yachts, also on the left hand side of the page you can filter your search in terms of budget, size etc.

When you've found the yacht(s) you like, just click enquire, and our reps will research the boat's availability and get right back to you. Let us know some of your basic details so we know who to email, and have a rough idea of what you are looking for so we can get straight to it to take up as little of your time as possible! We need to know dates, so we can choose yachts that are available, number of cabins to get the right size yacht and your budget to filter our search.
This short enquiry form takes a few minutes but will really help our brokers narrow down their search so they can start sending you proposals straight away to make the process simple!
As always, feel free to contact us if you have any questions. Happy Chartering!
Contact Us to plan your charter
Other Articles of Interest
Charter destinations